The HDDA12  is a 2 Output HDMI Distribution Amplifier combined with audio converter.  The HDDA12 converts incoming HDMI audio to 2CH Analog or Digital Toslink Output .  Dual HDMI Video output enable users to display content on 2 screens simultaneously. Ideal for integration of video and audio amplifier and sound panels.
The HDDA12 is designed to deliver reliability and ease of installation for commercial and residential applications where Audio integration is required.
2 HDMI outputs display HD video simultaneously on 2 screens.
Digital Toslink Audio output for surround sound integration with devices such as the new Apple TV 4.
2Ch Analog Audio ouptut . Note 1
Audio interface supporting PCM, Dolby Digital, DTS digital audio at up to 192kHz frame rate
Supports high resolution video 480p, 720i/p, 1080i/p
EDID Management
*Note 1: 2 ch Analog output supports only 2 ch PCM incoming audio signal format. Audio source must be set to 2 ch PCM. Unit does not "downmix" 5.1 to 2 ch analog out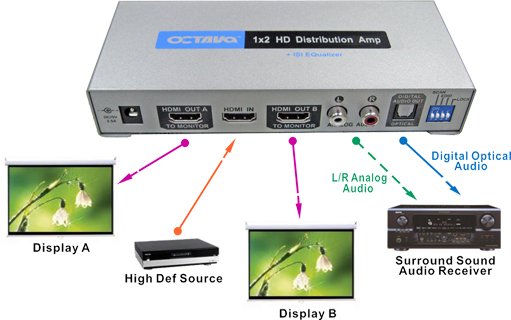 Video Resolution
480P, 720P, 1080i/P



Audio Out
Optical Toslink Out : 1 (Supports 2Ch PCM, Dolby 5.1, DTS 5.1)
Analog Audio Out : Supports LPCM audio format. Unit does NOT decode Dolby or DTS.

Dimensions
6.9 x 2.9 x 1.2 Inches (17.5 x 7.4 x 3 cm) Length x Width x Height


Octava HDDA12 Dual Video  Output Audio Converter