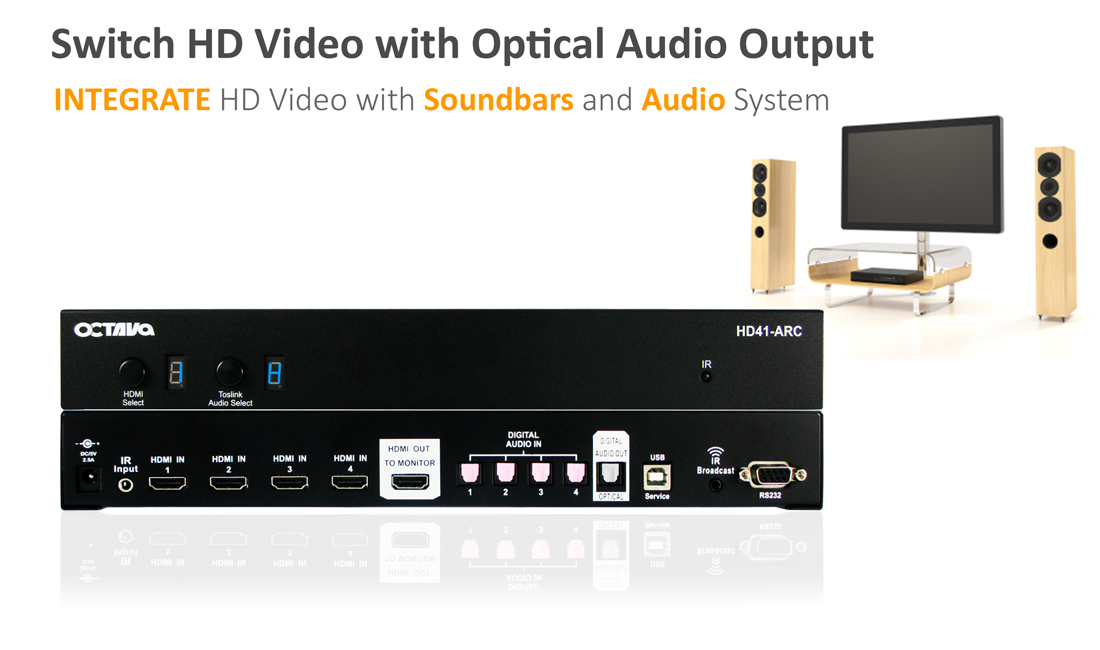 Simplify HDMI video switching and Toslink Optical Audio integration with sound systems and soundbars such as the Sonos® Playbar.
Enables simple integration of ARC enabled Display with non-HDMI AV Amp
The HD41ARC HDMI switch supports 4 HDMI sources and converts the connected HDMI source audio to Optical Audiooutput. Built in EDID Management is configured with 2Ch PCM, 5.1audio fields ensuring that the connected sources can output  5.1 audio when available even if your HDTV does not supported it. Thus allowing you to get optimal performance from your sound system via Optical Audio. The HD41ARC switch utilizes the latest switching technology to provide very Fast Switching.
The Octava 4×1 HDMI switch +ARC includes: 4 HDMI inputs, 4 Optical Audio inputs, 1 Optical Audio output, 1 HDMI output with ARC support.
Smart ScanTM algorithm intelligently selects the correct HDMI source so you can enjoy the program instead of fumbling with the remote.
The HD41 can extend IR signals for video switching and also control connected sources installed in hidden cabinet thus allowing a clean and streamline installation.
Switch 4 HDMI sources to 1 output
Optimized for use with Toslink based Soundbars such as the Sonos® Playbar
1080P, 4k UHD 3840×2160 @60 Hz
HDR ( High Dynamic Range)
HDCP 2.2 compatible
Fast Switch
4 Optical Audio Inputs
1 Optical Audio Output
Optical audio modes 1: convert HDMI audio to optical output
Optical audio mode 2: convert HDMI ARC from HDTV to Optical Audio Format
Optical audio mode 3: Switch directly from the 4 Optical inputs to the Optical Output
Independent Optical source selection
IR Extend control connected sources installed in hidden cabinet via IR.
RS-232 Control Program Included
1 RU mountable. Rack mounts included
EDID Management and customization via USB port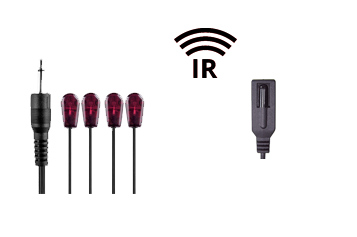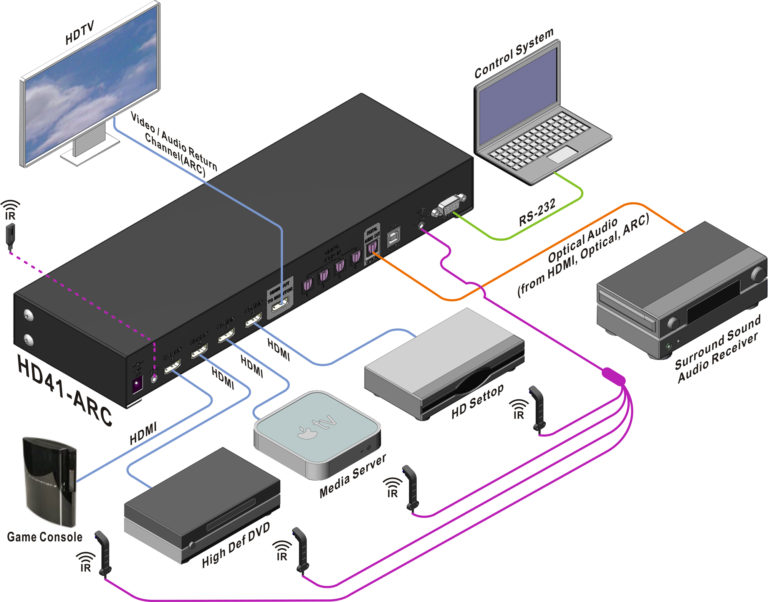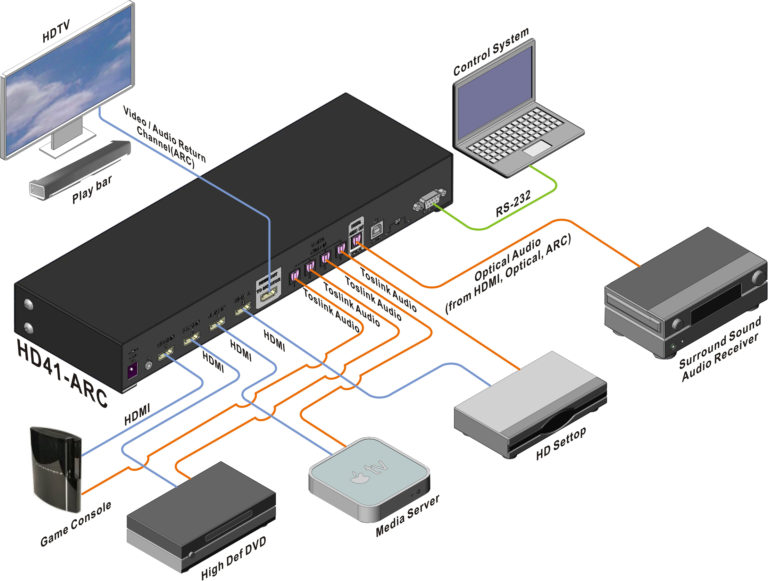 Video Resolution
480P, 720P, 1080i/P, 3840x2160 @30/60 Hz


High Dynamic Range


Audio Out
Optical Toslink Out : 1
Supports 2Ch PCM, Dolby 5.1, DTS 5.1

IR Extension . Remote Controlled
IR Receiver Extension for 'In Cabinet Out of Site' Access. (optional)
IR Emitter for Source Control. ( optional)

RS-232 Serial Port
RS-232 Serial Control Port for Control System Integration



Dimensions
12.7 x 4.1 x 1.7 Inches (32.3 x 10.4 x 4.3 cm) Length x Width x Height



Rackmount
1RU Rackmount Mounts Included
Octava UHD41-ARC HDMI Switch
 IR Emitter / Receiver Cable Kit