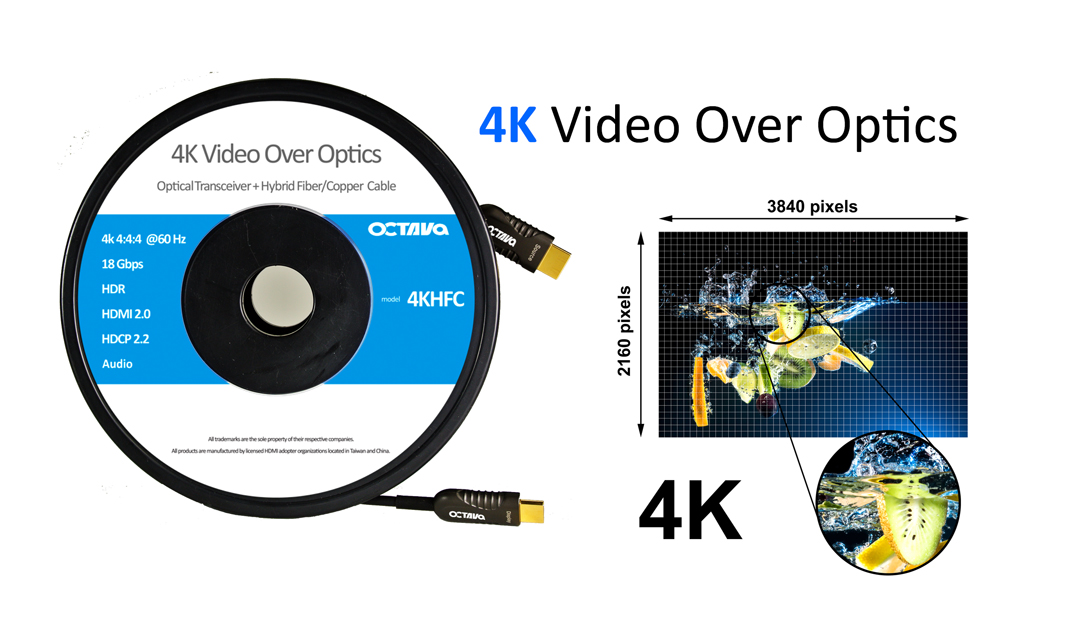 The Octava 4KHFC is a 4K Video Optic Transceiver + Hybrid Fiber Copper cable. Based on Optical technology, the 4KHFC transports 18Gbps of ULTRA HD 4k @60 Hz  video without loss of quality over long distances up to 330 ft.
The Octava 4KHFC integrates optical transceivers : 850 nm VECSEL laser transmitter at the source end  and PIN photo detector receiver at the display end.  The Octava 4KHFC utilizes hybrid optical / copper cabling. Optical Fiber (OM-3 Multi-Mode)  is used to transports high speed 18Gbps video  signals and copper to transports power and low data rate signals .The Octava4KHFC is low power and derives its power directly from the connected source component and powered over copper cabling so no external power supplies are needed.  Simply plug in the 4KHFC to the Source and the Display.
Reliable 4K Transmission – Fiber Optic is inherently very low loss at 3 dB/KM and is immune to common EMI interferences. This ensures that the video signal transmission is error free over longer distances compared to standard copper based solutions..
4k @60 Hz Ultra HD
4:4:4 color
18Gbps Bandwidth
Supports HDMI 2.0 and HDCP 2.2
HDR high dynamic range , Dolby Vision
Advanced 850 nm VCSEL laser , PIN photo-diode
Optical Fiber  4 x OM3 multimode fiber
Thin and compact Outer diameter 4.2mm
300 ft link distance
Hot Plug, no external power supply needed
Fiber immune to EMI
Light weight reduces cable pull on connectors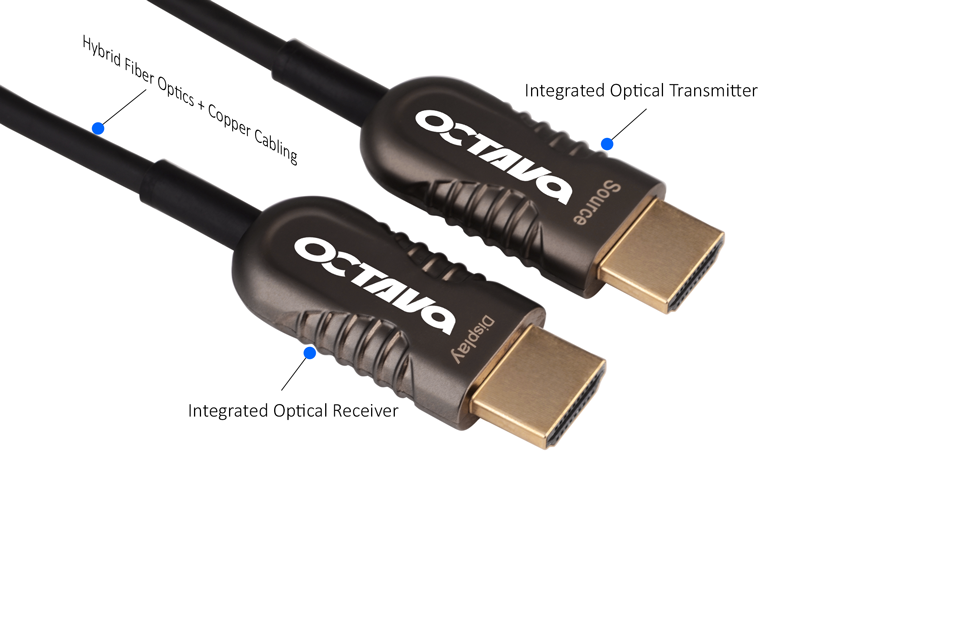 Video Resolution
480P, 720P, 1080i/P, 3840x2160 @60 Hz
Color Space : 4:4:4 Chroma Sub Sampling

High Dynamic Range

HDMI
In : 1
Out : 1
Version 2.0
HDCP : 2.2

Fiber Optic
Multi Mode OM3
Bandwidth : 18 Gbps
Optical Wavelength : 850 nm
Bend Radius : 2.4 inches (6cm)
Outer Jack : 4.2 mm

Power
0 .6 W ( typical) powered from connected source

Dimensions
Cable Outer Jacket : 4.2 mm

Fiber Bend Radius : 2.4 inches ( 6 cm)
Octava 4KHFC-HDMI Over Fiber Optics – 30ft
Octava 4KHFC-HDMI Over Fiber Optics – 100ft