The HDMXA71 video matrix switch enables video switching of 4  video sources to 2 displays up to 16 viewing combinations. The HDMXA71 also includes both analog and optical audio output for  integration with an existing audio system.
The Optical audio output supports both PCM and Bitstream audio formats. LPCM audio is supported thru the RCA analog audio outputs(x8). Perfect for systems with LPCM support such as PS3 . An Auxiliary ( 2ch) audio Loop thru port is included to connect to a second Analog (8ch) source. USB service port for EDID customization. EDID Library availaible on support web site for easy customization.
RS-232 and LAN/IP control port available for easy integration with 3rd party control systems.
1080P, 4k UHD @ 3840×2160@24 Hz
4 HDMI inputs, 2 HDMI outputs
5. 1/ 7.1 LPCM  Analog audio output (8ch.) –Note 1,2
Aux 2 CH analog loop thru port (8ch.)- Note 3 .
Optical Toslink Digital Audio -2CH PCM, Bit Stream
Seamless integration with your existing Audio Receiver.
Remote Control (IR) included. Discrete Code allows direct channel control.
1RU rack mountable.
Wired IR port for In-cabinet installations.
RS232 port for PC or Control System operation.
LAN/IP for PC or Control System operation
USB service port for EDID customization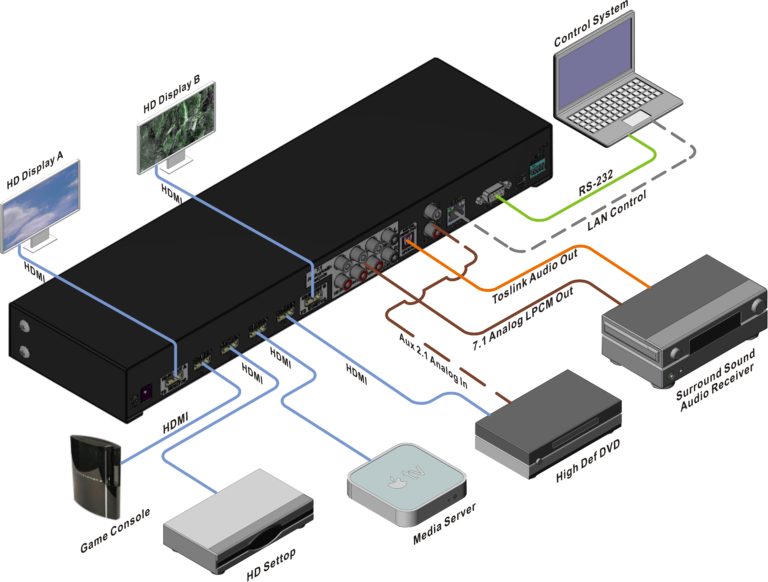 Video Resolution
480P, 720P, 1080i/P, 3840x2160 @24 Hz



Audio Out
Optical Toslink Out : 1 (Supports 2Ch PCM, Dolby 5.1, DTS 5.1)
Analog Audio Out : Supports LPCM audio format. Unit does NOT decode Dolby or DTS.

2 Ch. Aux Analog Audio Input
Connect 2nd Analog Audio Source and "loop thru " to the Analog Audio Output. Does not convert Analog Audio to HDMI

RS-232 Serial Port
RS-232 Serial Control Port for Control System Integration


IR Extension . Remote Controlled
IR Receiver Extension for 'In Cabinet Out of Site' Access. (optional)



LAN / Telnet
RJ 45 Port for Telnet Control

Rackmount
1RU Rackmount Mounts Included

Dimensions
15.1 x 4.1 x 1.7 Inches (38.3 x 10.4 x 4.3 cm) Length x Width x Height


Octava HDMXA71 Dual Output HDMI Switch