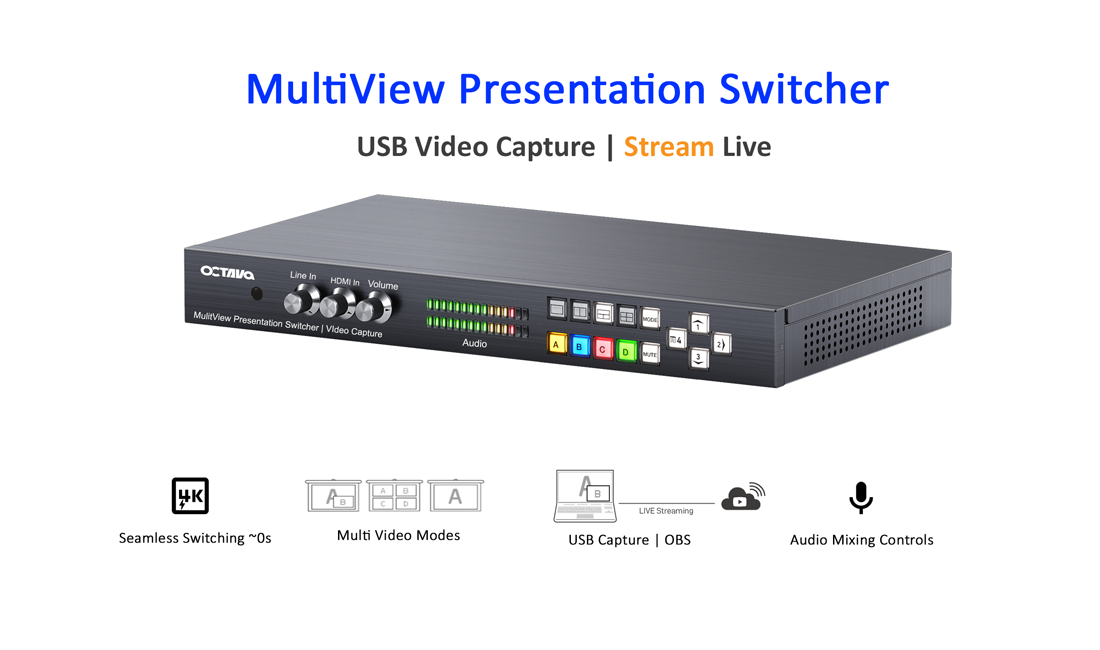 The Octava Pro series MVPS-UHD42VC Presentation Switch is a Seamless/Instant Live Video Switcher  that empowers users to  create and manage multiple video source presentations.  Combine and Mix multiple video sources such as Live Cameras, PC or any video source with HDMI and display  in any of 24 possible Multi-View modes.  
The PS-UDH42VC provides USB FHD Video Capture to capture connected video sources and allows presenters to integrate with OBS ( open broadcast software) to create stunning Live Stream sessions . 
 Supports seamless, fade-in-&-out, wipe and dissolve switching on full screen mode and Audio ports for integration with audio system.
 RS-232 serial and TCP/IP Port  is provide for integrating with 3rd party control system 
4 Source x 2 Display Matrix

Multi-View with Picture by Picture ( 24 viewing modes)
USB Video Capture
Seamless Switching near ~0s
Ideal for Integrating with OBD and Live Streaming
Input resolutions support 4096×2160@60Hz (4:4:4 8bits)


Audio Mixing

RS-232  TCP/IP Control Port
IR Remote Control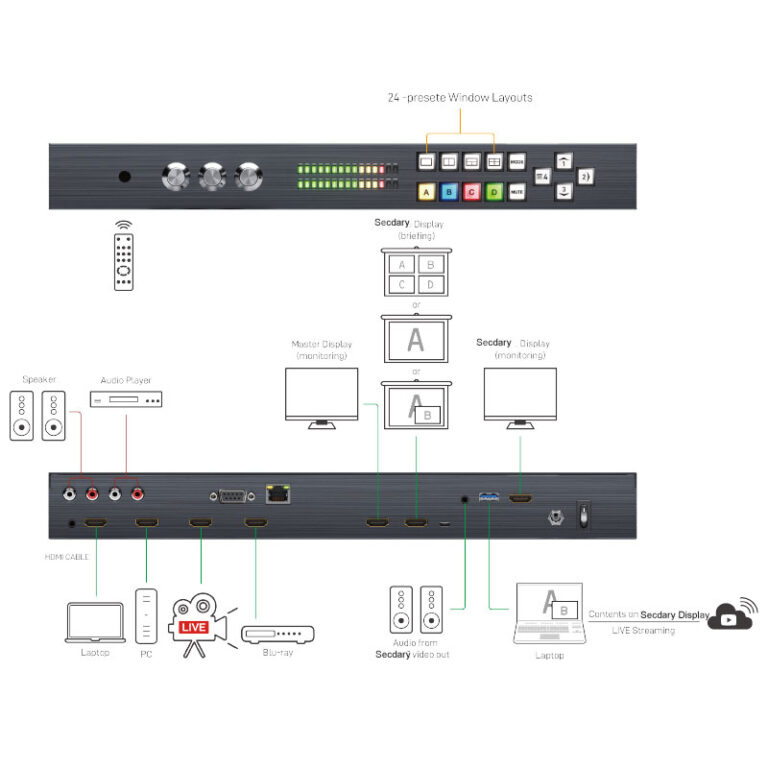 Video Switching and Resolution
Seamless Switching ~ 0 seconds switching time.
480P, 720P, 1080i/P, 4k @ 60 Hz 4:4:4


Multi-View
PIP, PBP, POP, full screen & quad-view display
24 different viewing modes

HDMI
In : 4
Out : 2
HDMI 2.0 , HDCP 2.2

Audio
Analog Audio In and Out
Audio mixing
Audio Volume control


RS-232 Serial Port
RS-232 Port for Integration

USB Video Capture
USB 3.0 FHD Video Capture


Dimensions
390 x 214 x 44mm[15.3" x 8.4" x 1.7" Length x Width x Height



Octava 4×2 Multi-View Presentation Switcher | Video Capture MVPS-UHD42VC