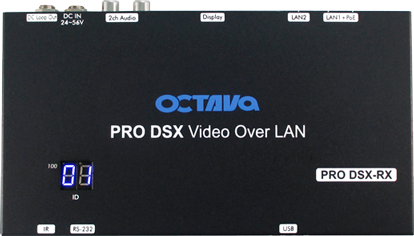 Multiscreen Video Over IP
Fast Setup . Scalable . Flexible
Photo by Mitch Rosen on Unsplash
System Controller with feedback and live preview.
The Octava PRO DSX  HDMI Video over IP solution is a  scalable multiscreen 4K video connectivity platform. Utilizing  network switch at the core and standard LAN cables, 4k video can be routed from any source to display connected to the network enabling one to create virtually any sized NxM HDMI Video Matrix, or Video Wall.  USB 2.0 over IP support allows you to share video , and access workstations over the Local Area Network.
Integrated inside the PRO DSX unit is the Octava System Controller Software. The integrated System Controller enables you to install |customize| operate your  your video system without additional hardware/gateways or software.  Our engineers have streamlined vast majority of the programming and setup within the embedded software allowing you to get your video system up and running rapidly.
We provide OPEN API so you can create your own drivers to integrate with 3rd party control systems  (Ex. Crestron, Control 4).
The Octava PRO DSX HDMI Video Over IP  been deployed is ideal for commercial, enterprise , hospitality, and Education Audio Video installations.
Built-In System Controller in unit | Control Entire System Now 
Real Time Video Screenshot of Source and Display
NxM HDMI Video Matrix Build virtually any size video matrix
KVM over IP
Quick video Switching
3840 x 2160 Video Resolution capable
HDR high dynamic range
HDCP 2.2
Video Wall create custom video wall using standard
Easy to Control using iOS , Android or IR Remote
300 ft link distance over Ethernet cables. 
Bi-Direction IR Extension
Serial controls extension– USB, RS-232
2ch Audio Injection and output ports
PoE powered IEEE 802.3af or IEEE 802.3at
Ethernet cascade on receiver to streamline cabling
Quick Setup using our propietary EZ IP Setup
Open API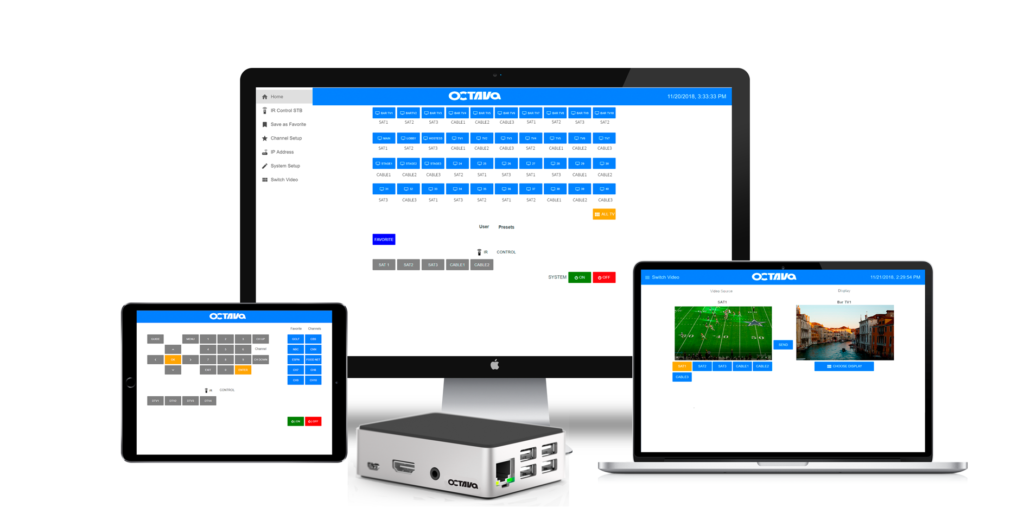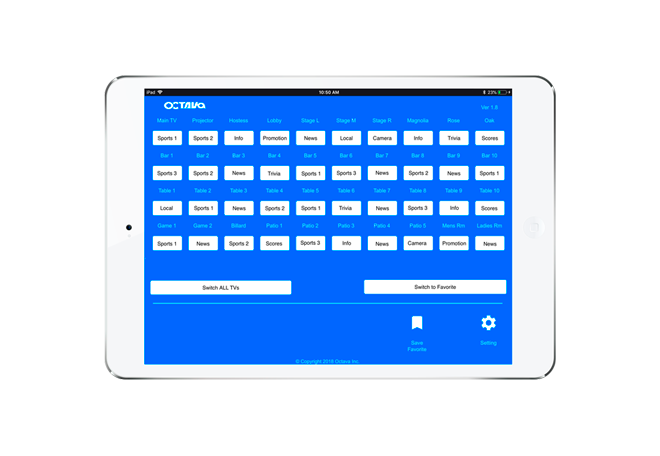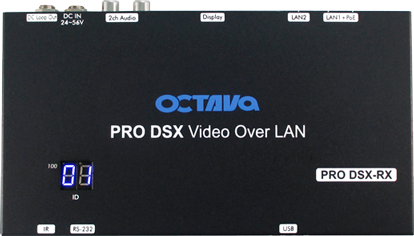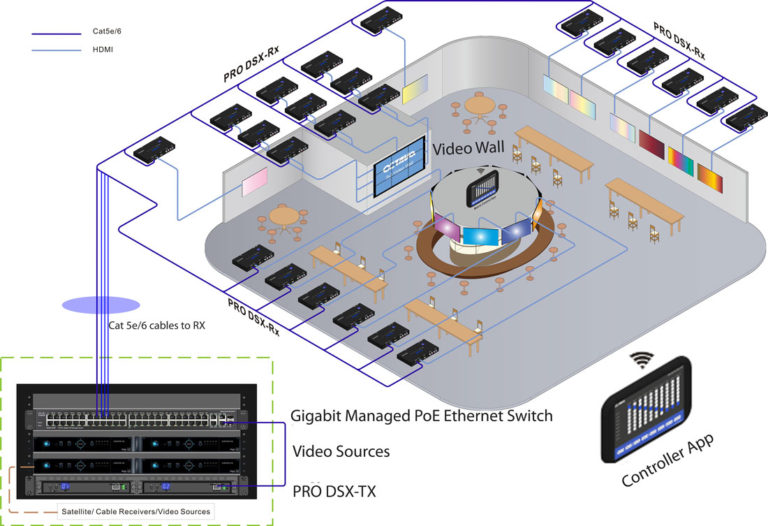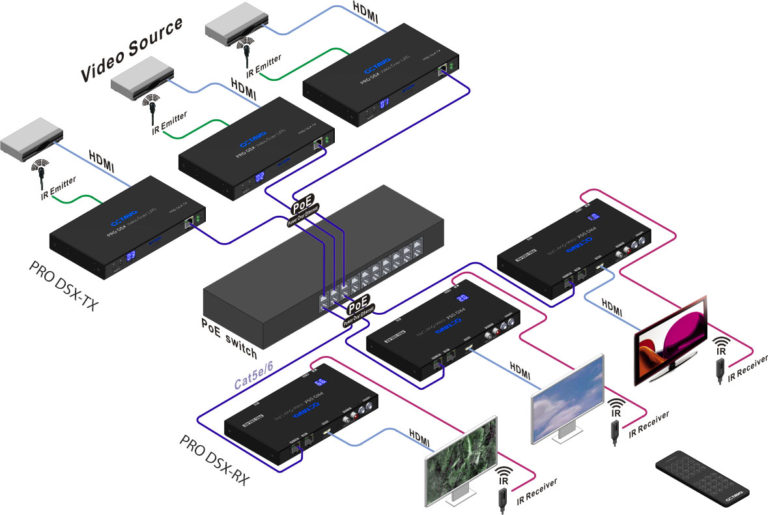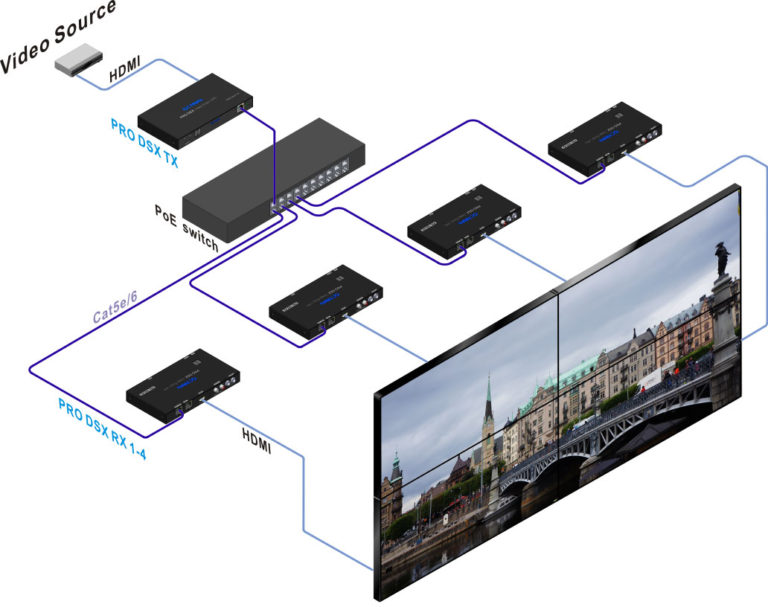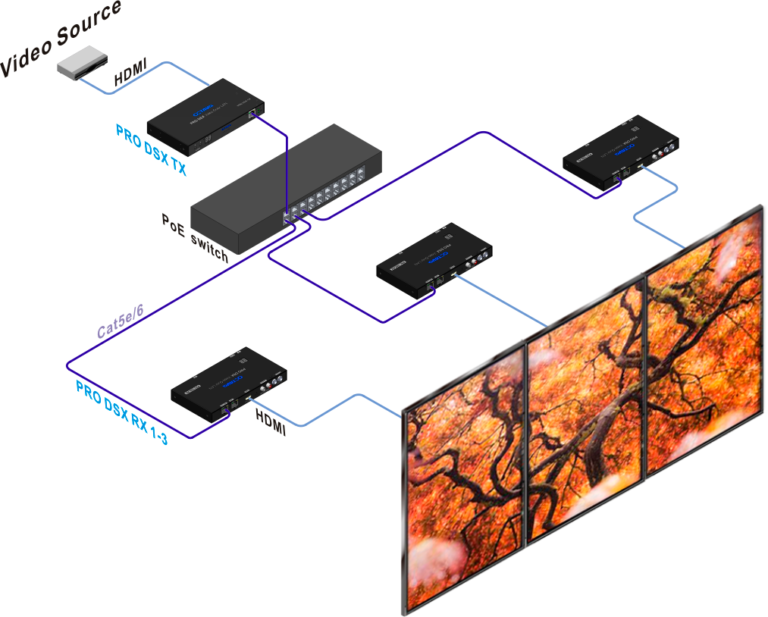 Video Resolution
In : 480P, 720P, 1080i/P, 3840x2160 @30Hz, 3840x2160 @60 Hz
Out : 480P, 720P, 1080i/P, 3840x2160 @30Hz

High Dynamic Range


Audio Out
2 Ch PCM, Multi-Channel Ouput ( RX HDMI Out )
2 Ch PCM ( RX Analog Audio Out)

N x M HDMI Video Matrix
Build Virtually Any Sized Video Matrix Switch. (Contact Us for Details)

Video Wall
Create Large Screen Video Wall 2x2, 3x3, 2x3, 1x3 portrait, 4x4 and more

Network Cable Link Distance
330 ft . CAT 6 cabling recommended

Ethernet Daisy Chain
Extra Ethernet Port on RX Unit for Cascading RX Unit

IR Extension . Remote Controlled
Bi-Directional IR Extension.
PRO DSX Video Switching Via Remote Control.

USB Port Extension + RS-232 Serial Port
USB Extension for KVM Applications
RX-232 Port Extension

PoE or Local Powering
PoE Powered Conforming to IEEE 802.3af or 802.3at.
Local Power Option from 24-56 VDC Available.

Dimensions
8.7 x 4.1 x 1.0 Inches ( 22 x 10.4 x 2.5 cm) Length x Width x Height


Let us know about  your system requirements.  Our design team will review and happily provide system build for your review. There is no-obligations for purchase.