Octava  announces  the introduction of the next generation Audio Video over IP extender solution. The Octava HDDSX– digital video extender is a scalable HD video distribution solution enabling the design of multi display systems using standard Gigabit Ethernet LAN. The HDDSX simplifies installation of HD Video system by using available CAT 5e/6 cable and Gigabit Ethernet LAN switch.  The HDDSX utilizes advanced MJPEG techniques and IP protocol to deliver 1080p video up to 300ft over standard CAT5e cable.  Ideal for digital signage, house of worship, education, hospital applications requiring multiple displays over longer distances using existing LAN infrastructure.
The Octava HDDSX extender consists of a transmitter and receiver unit and supports HDMI , Display Port and DVI.  The HDDSX can be used for:
1) source to single display (point to point) application
2)  multi display (1 to many) application.
For a single HD display application, simply connect the transmitter and receiver unit  with a CAT5e cable for link distance up to 300ft.  A scalable multi-display systems can be created by connecting the transmitter and multiple receiver(s) thru an unmanaged Gigabit LAN switch.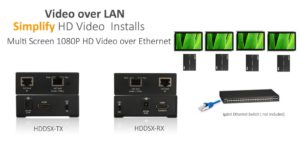 "We are excited to provide a HD video distribution solution over IP that is simple-to-use and simple-to-expand.  Using IP protocol  and advanced MJPEG, the Octava DSSX  AV over IP solution  enables our clients to leverage their available  LAN equipment ( CAT 5e cables and Gigabit Ethernet switches) without  significant video quality trade off. This allows clients  to deliver more HD Video and audio services on site in an efficient manner" said Jeffrey Su,  Product Manager at Octava.
Read our interview from this months HomeToy:
What is HD Video Distribution over LAN?
HD Video Distribution over LAN is a scalable HD video distribution solution enabling the design of multi display systems.
Simply put, HD Video Distribution allows HD video distribution over standard Ethernet LAN Network.  Its the convergence of  Audio Video  distribution with standard IT technologies.
In essence, there are 3 core components in the system: 1)  video to IP .Coder ( transmitter).  2)IP to Video . Decoder ( receiver) and of course the  LAN cables and Ethernet Switch to connect CODECs.
What are the link distances of HD Video over LAN?
We can deliver 1080P HD video over 300ft over a cat5e. In general, the limit is based on limits of Ethernet, which is 300ft.
Why use HD Video Distribution over LAN?
Video over LAN /IP uses the same packetized network  protocols as the internet and on the physical layer it uses standard Ethernet connections. Most of the deployment sites will be in hospitality, house of worship, education, retail and health care market requiring multiple video displays over longer distances.  In these markets, there is already an IT manager on site.  By using technologies familiar to the IT group, the installation and maintenance of HD Video Distribution will be 2nd nature. I also would like to add that  many sites will be adding or upgrading to HD displays and  have pre-run CAT5e cables which now can be utilized to now distribute HD video.
Are there any drawbacks disadvantages ?
Great question. In  engineering parlance we say: " you can't get something for nothing."  In order to deliver HD Video over IP/LAN, obviously the data size has to be limited. In HD Video LAN/IP , video compression such as MJPEG is used to minimize bandwidth while maximizing video quality.  Native HD Video will ALWAYS be better than compressed MJPEG rendition.   HD VIdeo over IP/LAN will  typically  be used in application  where easy of use, reliability, distance and scalability  is more desired and clients are willing to trade- off some video quality to achieve this.  WIth that said, MJPEG is an advanced compression technique and video quality is still very very good.
So is HD Video over LAN/IP for everyone?
NO. We believe in understanding our clients application and needs first.  It depends on the application. For example, if the client application is for a 4 display system at the church to host the service or if its a 50 display system for digital signage in a shopping center, then HD over LAN will fit the application. On the other hand,  if the application is for a HOME theater, where the client will want the highest quality video available, we would provide solutions that distributes the video in native quality which by the way ,we have solutions for as well.
What are some of the most common applications for the technology that you are seeing at present?
House of Worship where there is a need to distribute video of the sermon or presentation to multiple monitors for  the main congregation and  the overflow rooms where the distance are typically 100-300ft.
Also in business  where there is a need to distribute multiple messages/presentations to the HD displays on site.
Are there some applications that you think would be effective but as yet are not being deployed?
Certainly education will continue to be major user of Audio Video to enhance the learning process and getting messages out to students in an efficient manner. So I think the potential in education as well as health care AV has huge potential.
How does the cost of this technology compare with other methods of distribution?
The  system is scalable which is a major advantage in terms of cost. Systems can be initially deployed to meet the current of HD Displays needed. If more displays are needed, simply add a DECODER( Receiver) unit next to the display.
Also, the physical layer of the HD Video Over LAN/IP is Ethernet so cost of adding/installing cables is minimal.
Looking forward, do you see other technologies on the horizon that will further advance the use of the LAN for HD Video distribution?
Certainly businesses are utilizing HD displays to get the message to the clients so  digital signage will continue to be a driver for the HD Video over LAN.