Octava introduce new category of 4k Video over LAN/IP distribution system. The Octava PRO DSX is a simple to use, feature rich 4K HD video over LAN /IP distribution solution designed to deliver multiple 4k UHD video sources to multiple displays over standard CATx Ethernet cables.  The PRO DSX delivers stunning high quality video from multiple sources to virtually any number of displays utilizing standard Ethernet cables and 1G Managed Ethernet.
The PRO DSX series includes: PRO DSX –TX (encoder/transmitter) and the PRO DSX-RX (decoder /receiver) both PoE or locally powered. Supports 4k UHD and HDCP 2.2.
"The scalable architecture of the PRO DSX allows the integrator to build virtually any sized video system with minimum hardware," said Jeffery Su, Product Manager.  "In addition, our unique design and emphasis on ease of use has been well received. We have had first time AV installers new to video over IP, successfully deploy new systems and were operational in minutes"
"The PRO DSX was carefully designed and crafted for system integrators based on extensive field experience and feedback. For example, in many systems there is a mix of both legacy 2k and 4K displays which presents a significant challenge to installers. To address this, each PRO DSX zone receiver includes a video scaler allowing 4k content be delivered and viewed on 4k displays while scaling to 2k as needed on only 1080P displays-with no additional hardware. "
The PRO DSX also delivers bi-directional IR, RS-232, and USB over the same CATx cable along with the audio and video thus allowing integrators to have total flexibility and ability to control connected devices.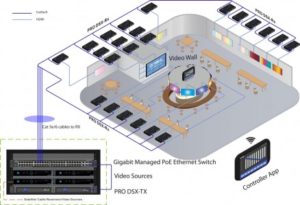 The Octava PRO DSX can be directly controlled by IR  or IP controlled  with virtually any 3rd party control systems. "The PRO DSX also includes a unique embedded Web server with an easy to use matrix controller interface allowing users to control the entire system using any handheld device running iOS, Android, Windows with no additional software or apps."
The Octava PRO DSX also functions as a Video Wall processor to create n x m (2×2, 3×3, 4×4 and etc.) large video screen walls.
The Octava PRO DSX is available now.