As a sports bar or restaurant owner, it's essential to have a TV video system that can attract customers, keep them engaged and provide them with an unforgettable experience. Having the right TV video system can significantly impact your business, as it can increase the amount of time customers spend in your establishment and encourage them to return. Designing the perfect TV video system can be daunting and you may not know where to begin. In this article, we will guide you through the basics of designing a sports bar or restaurant TV video system.
How many TVs should be installed?
Every facility is unique in floor spacing and layout. As a general rule of thumb, a minimum of 3 to 5 TVs should be visible from each seat location to ensure the customers can engage in the events as a shared experience.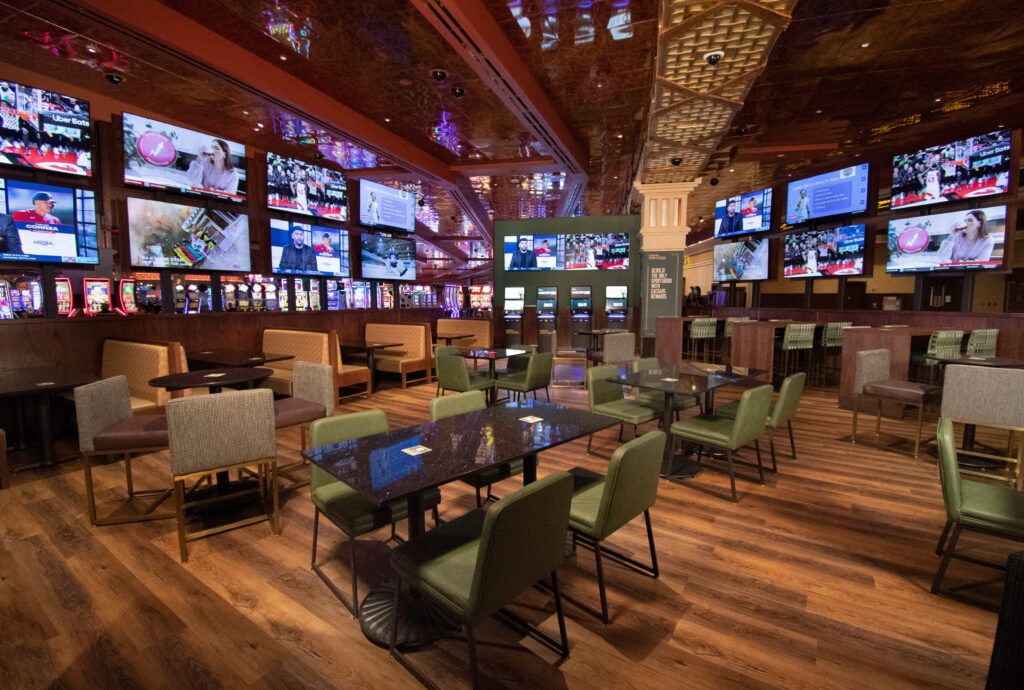 Key features in the TVs and projector?
In addition to quality, resolution and size of display, the features below should be considered :
Mounting- Make sure the display support VESA mounting standards. This will ensure TVs can be mounted to standardized wall mounts and brackets.
Controls- Seek out displays that have controls such as serial controls (also refer to as RS-232), and HDMI-CEC controls. Serial controls, HDMI-CEC controls allow sending control commands to the TVs/Projector from control software applications. For example, the control application enables you to turn on / off the TVs all with one simple touch at beginning / closing of business.
Scheduled On/Off Timer- The scheduled On/Off timer allows you to program each TV to automatically turn on / off at specific time and dates according to your business hours. This eliminates another process your staff needs to complete at business opening/closing.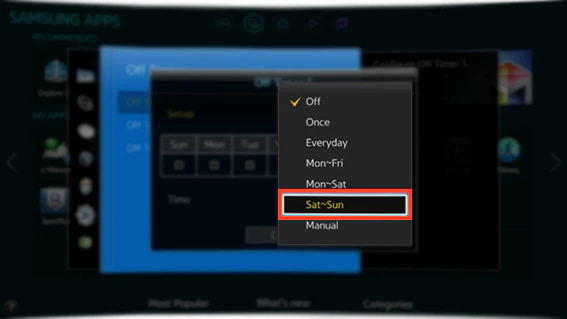 Why Audio Video Distribution is needed
One choice is to connect a set top box and/or media player directly to each TV. However this choice is cumbersome and not scalable in a multi screen environment such as a sports bar / restaurant. For example, a small sized sports bar may have 20 displays and simply managing 20 set top boxes and remote controls is unfeasible. A better choice is to use an audio-visual distribution system to:
1. optimize the number of set top boxes necessary ( one per unique program channel required),
2. minimize remote controls
3. easily switch any program channel to any combination of TVs. from a centralized control system application.
Audio Video Over IP:
Audio Video Over IP in the context of restaurant/sports bar applications is the transmission of audio video over a dedicated LAN network. An example of an AV over IP system using Octava PRO DSX system is shown below: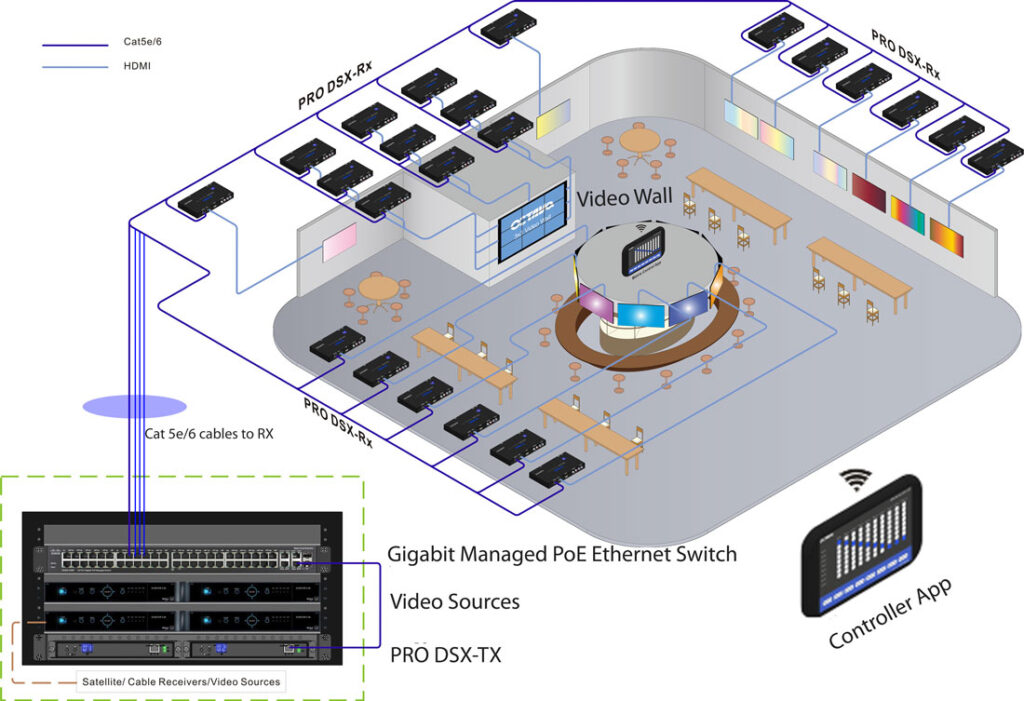 Key features of AV over IP:
Distributes AV over standardized IEEE defined networks
Cabling-Reliably transports payload over CAT6 LAN cables that are readily available
POE powering (note1) – AV over IP Transmitters and Receivers with POE can be directly powered from the POE network switch. Eliminating device power supplies reduces cable clutter and better power management.
Supports multiple AV distribution applications using one single platform:

Extension
Switching, Routing
Transport additional control signals: IR, serial, CEC, KVM (note1)
Video scaling, magnification for Video Wall applications (note1)

Scalability- expand system by adding more AV over IP transmitters or receivers to network.
Amenable to software development stacks – Using standardized up to date network, IP protocols allows developers to leverage available software stacks for application development.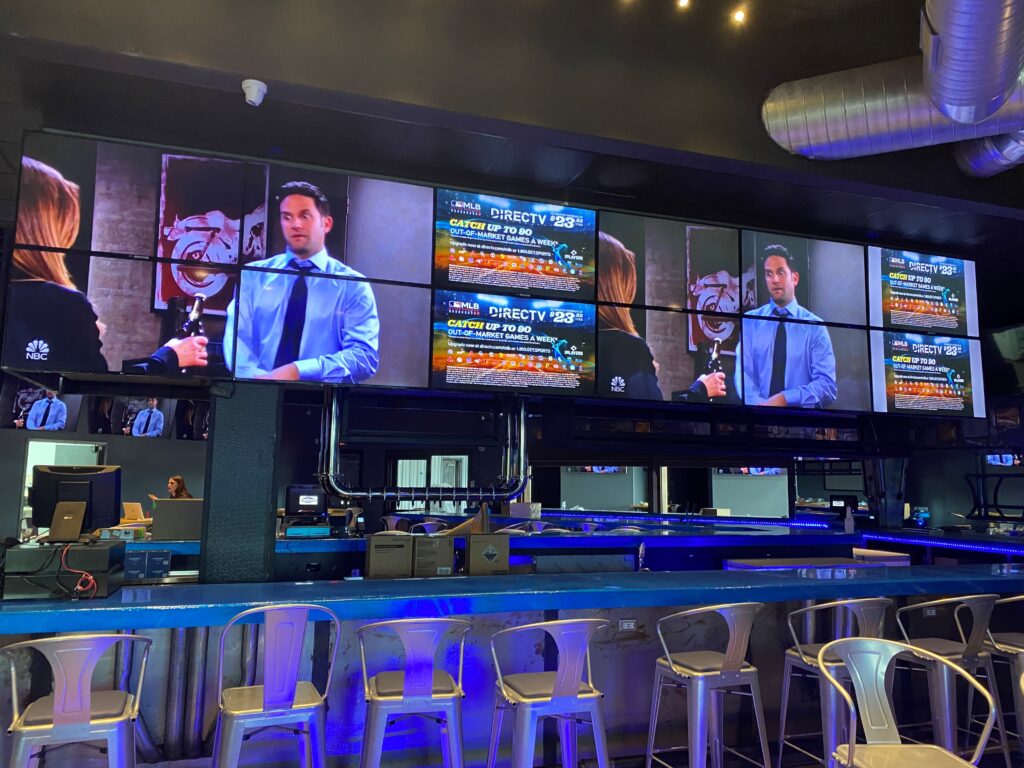 AV over IP building blocks:
Audio Video Encoder | Transmitter- An AV over IP Encoder | Transmitter is needed per video source ( cable box, media player). The encoder primary functions are to: 1. Encode video using video compression such as MJPEG or H.264/265 for efficient data transport 2. Embed any addition control signals ( IR, serial, CEC) 3. Convert and packetize data per IGMP protocol (Internet Group Management Protocol) and establish a unique multicast group. Multicasting creates and sends a single copy of data 'group' only to multicast subscribers to minimize bandwidth utilization. In the context of AV distribution , a group (host) can be thought of as a unique video channel. Any AV over IP Receiver(s) subscribing to the same multicast group will receive the same group (host)data. Alternatively, some AV over IP system will use VLAN switching instead of Multicasting.
Audio Video Encoder | Receiver- An AV over IP Decoder/ Receiver is needed per display(TV, projector). The decoder/receiver in short reverses the encoding process and ultimately outputs the audio video signal.

3. Network Switch- All AV over IP Encoder and Decoder are connected to a network switch to receive and forward data to the destination device. A reliable "business" grade network switch with these features should be chosen.
1Gigabit, Jumbo Frame
IGMP, IGMP Querier support
IEEE PoE 802.3af power over ethernet
10 Gigabit stacking switch ports for larger systems requiring multiple switches
4.Cabling- CAT6 cabling for links below 100 meters.
5.Control System and Software application- Intuitive software to manage and control AV over IP devices is key to your daily operations. AV over IP technology is amenable to development of bespoke application using the latest software stacks. The application should be designed so your IT staff can easily maintain and perform basic customization such as 'zoning/partitioning' groups, add / drop video displays and source buttons without having to involve 3rd party programmer.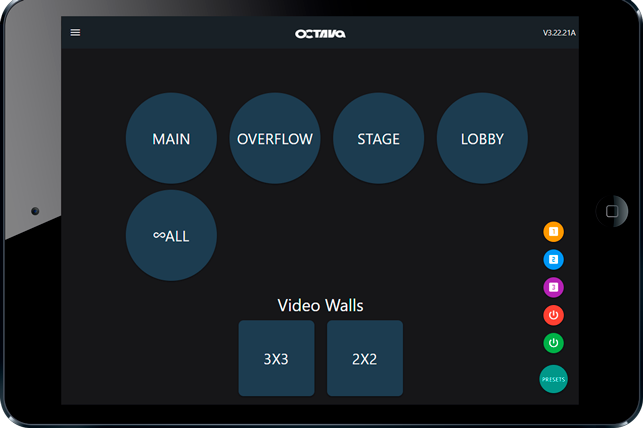 To learn more about Octava AV Over IP systems, check out the following:
Notes:
Note1: Check the specification of the AV Over IP device for feature availability.